Classic China
S-402:
14 Days Private Tour of Beijing - Xian - Guilin - Yangshuo - Guilin - Chongqing - Yangtze River Cruise - Yichang - Shanghai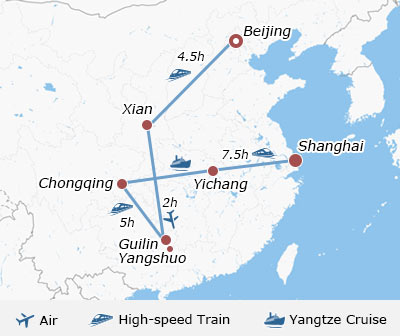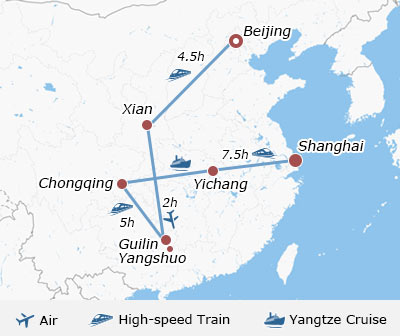 Tour Type:
Private Tour, any parts of the itinerary can be customized
Guide & Driver:
English-speaking guide, experienced driver with an air-conditioned vehicle
Meals:
13 western buffet breakfasts, 6 lunches with some being a la carte style, 2 dinners
Tour Highlights:
Must-see sights in China - Mutianyu Great Wall, Forbidden City, Terracotta Warriors
Fantastic cruise tour on the Li River from Guilin to rural Yangshuo
Enjoy the Three Gorges scenery on Yangtze River cruise & feel totally relaxed
Take in the impressive skylines of Shanghai as you walk along the Bund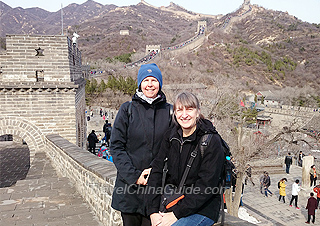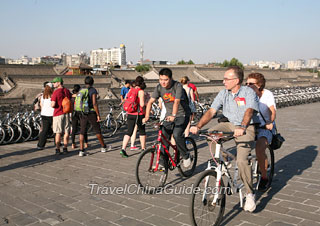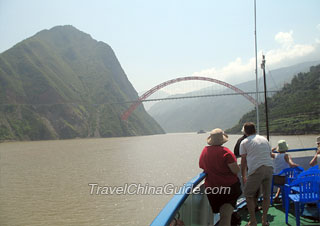 Airport pick-up & airport-hotel transfer.
Upon your arrival in Beijing today, your two weeks China tour package gets started. Our outstanding guide and experienced driver will be ready at the airport according to your flight schedule. You will find the guide effortlessly after getting back your checked luggage and going through the customs. Drive to the well-found hotel for registration. For the rest time of the day, you may relax or disposal by yourself.

Meals: No meals, advice freely available
Tiananmen Square, Forbidden City, A la carte lunch, Temple of Heaven. (B+L)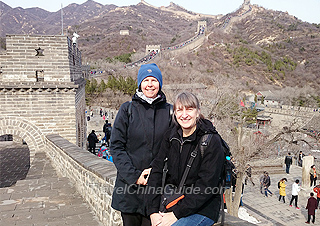 Our clients at the Great Wall
Our capital city always has much more to offer.
Tiananmen Square
, the largest urban square in the world, will be the first stop of your 2 week China tour. Half an hour is reserved for you to walk along the square and take some nice photos. Getting across the Changan' street, you can find the
Forbidden City
, which was the imperial palace of 24 emperors from the Ming and Qing dynasties. You will know more about Chinese history and majestic imperial power through visiting this ancient palace complex.
Lunch will be served with
a la carte
menu (valued at CNY150.00 per person and included in our price) at a nice local restaurant. In the afternoon, you will visit the
Temple of Heaven
. It was the sacred place, where the emperors used to hold ceremonies to sacrifice the God and bless abundant harvest.
Meals: Western buffet breakfast, A la carte lunch
Mutianyu Great Wall with a round-trip cable car, Olympic Bird's Nest. (B)
Our Travel Consultant Kelly with her clients
People who come to our capital should not miss the Great Wall. Today we will arrange you to visit one of the most elite parts of the Great Wall at
Mutianyu
section with the round trip cable car. We kindly remind you to wear a pair of comfortable shoes since you need to hike on the wall for about two hours. Standing on it, you will see the long wall under your feet snakes along the mountain ranges, just like a huge dragon creeping on the undulations of the mountains, what a spectacular view! Lunch is arranged on your own.
In the afternoon, transfer you back to downtown. On the way, you will have a chance to see the
Bird's Nest
at close quarters and take some photos. Moreover, you will also have some time to explore a featured local market before returning to the hotel.
Meals: Western buffet breakfast

Friendly Tips
This tour includes the round-way cable car fees at Mutianyu Great Wall. However, if you are interested in taking the chairlift up and toboggan down the wall, we can also arrange that for you.
Summer Palace with boat ride on Kunming Lake, Hutong visit, A high speed train to Xian. Railway station to hotel transfer. (B)
In the morning, you are scheduled to visit the
Summer Palace
. Mainly for the amusement of the royal families, it was constructed by adopting the architectural skills' essence of those Chinese classical gardens. Here, you can have a glimpse of these delicate Chinese architectures on riverside of the Kunming Lake by boat. As for
Hutong
, we suppose you have seen it on TV or films for many times, but never have an experience to go through it yourself. Today, you will take a rickshaw through the traditional Hutong alleys, where you will appreciate the scenes that you can not obtain from the other sightseeing attractions or flourishing areas of the city. The unique courtyards of Hutong and people living there endow the city a sense of 'old' and tranquility, but it is the real image of the local people. Lunch is on your own arrangement.
After that, you will take a high speed train to Xian. Our local guide will pick you up at the railway station and transfer you to the hotel we have reserved for you in advance.
Meals: Western buffet breakfast
Terracotta Warriors, Provincial History Museum, Great Mosque, Muslim Quarter. (B)
Terracotta Warriors
Xian is an ancient city boasting profound culture and many historic legacies. The
Terracotta Warriors and Horses Museum
, whose discovery astonished the world, is absolutely the highlight for your private Xian tour today. Whatever its large scale, mighty scenes, exquisite warriors and horses in battle formations make visitors exclaim in great surprise. Lunch is not provided today.
In the afternoon, we will first visit the
Provincial History Museum
. Reputed as the symbol of the long history and culture of Shaanxi Province, the museum exhibits more than 370, 000 relics, mainly including bronze vessels, mural paintings, potteries, porcelains, bronze mirrors, jade articles and currencies of different dynasties. After that, we will show you the
Great Mosque
and the nearby
Muslim Street
. This street is an ideal place to taste the various delicious local foods and pick the interesting handicrafts or souvenirs.
Meals: Western buffet breakfast
City Wall, Small Wild Goose Pagoda, A local family visit and home-cooked lunch. Fly to Guilin. Airport-hotel transfer. (B+L)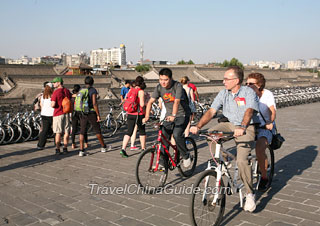 Bicycle riding on Xian City Wall
Your two week China tour visit today covers the ancient
City Wall
and the
Small Wild Goose Pagoda
. The City Wall is the existing largest and the most completed one in the world. With four gates directing east, south, west and north, the wall is quadrate from east to west. If time permits, you can also ride bicycles on the wall for a while. The bike rental fee is on your own.
Afterwards, you will come to visit
a local family
and enjoy an a la carte lunch at the home. Here you will have the chance to taste the real home-cooked dishes, which cannot be found anywhere else. Besides, you can also learn to cook Chinese food with the host if you are interested.
In the afternoon, you will take a flight to Guilin. Our local guide will pick you up at the airport and transfer you to the hotel.
Meals: Western buffet breakfast, Home-cooked a la carte lunch
Li River cruise to Yangshuo, Countryside trip. (B+L)
Our clients on the Li River cruise, Guilin
Full of amazing landscapes and historic culture, this world most celebrated scenic city never let visitors down. The
Li River
is just like a painting gallery with the elegant mountains of different postures on both sides. A cruise along it to Yangshuo is no doubt the most splendid part of your memorable vacation. Peasants on their bamboo rafts fishing, children in the riverside skylarking and women washing clothes, singing and laughing, all these lively scenes add more colors and interests to the natural scenery. Lunch is available on board, but the basic Chinese box lunch may fail to meet with your approval. So we recommend you prepare for the cruise with a generous breakfast at the hotel.
After about four hours' cruising, you will come to Yangshuo, a small town but impressive and romantic. Firstly, our guide will accompany you to check in at the hotel. Then transfer you to the countryside of Yangshuo to experience the tranquil rural scenery. En route, you will pay a visit to a villager's home to get acquaint with the local farmer's life there.
Meals: Western buffet breakfast, Lunch
Free time in the morning. Yangshuo-Guilin transfer, Reed Flute Cave, Seven Star Park, Elephant Trunk Hill. (B)
Yangshuo scenery
Before returning to Guilin, you will have a whole morning free in Yangshuo to explore this small town leisurely on your own. The afternoon city sightseeing begin with the visit to the
Reed Flute Cave
, the art palace of nature. Inside the cave, there are stalactites, stalagmites and stelae of various shapes remarkably true to life. It is really full of beautiful things in eyes. After that, turn to the
Seven Star Park
, the largest park of the area and a miniature of the city's landscape. The
Elephant Trunk Hill
, the last stop for your two week China tour today, is like a huge elephant drinking water with its long trunk in the river.
Meals: Western buffet breakfast
A bullet train to Chongqing. Railway station pick-up. Jiefangbei CBD, Ciqikou Old Town. Yangtze Cruise starts at about 22:00. (B)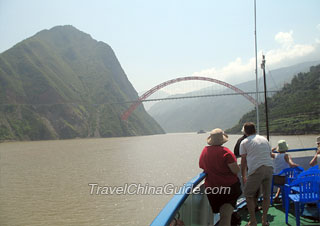 Fantastic Yangtze cruise
Today, you will board a bullet train to the mountain city, Chongqing. The train journey takes around 5 hours. Our guide will meet you at the railway station and transfer you to
Jiefangbei CBD
, a bustling business street in Chongqing and then
Ci Qi Kou
, an ancient town lined with the constructions in Ming and Qing style decoration on both sides. Afterwards, we will transfer you to board the deluxe cruise ship. Your memorable Yangtze getaway will begin as the ship starts sailing at 22:00. This river is not only the longest one in China but also in Asia. As same as the Yellow River, it is also reputed to be the Mother River of China. It runs through our country like a huge winding dragon.
Meals: Western buffet breakfast
Day 10
Yangtze River Cruise
Yangtze Cruise orientation, An onshore excursion to Shuangguishan National Forest Park, Captain's Welcome Party. (B+L+D)
This morning you will have a Safety, Orientation & River Briefing to learn the geography & river lore on board. After lunch, disembark for a shore excursion at Mount Shuanggui. It is a national forest park well-known for the beautiful natural scenery and a large number of cultural relics. Following the river guide, you will stroll through the tranquil forest park and learn about the traditional culture of China. Around 20:00, the Captain's Welcome Party which presents Chinese folk dancing and music performances will invite all the guests to participate.

Meals: Western buffet breakfast, Lunch, Dinner
Day 11
Yangtze River Cruise
Yangtze Three Gorges, An exciting excursion to Shennong Stream. (B+L+D)
Begin the passage with
Qutang Gorge
, the shortest and the grandest of the Three Gorges. View the exquisite peaks and grotesquely shaped rocks. Then pass the
Wu Gorge
to see its famous lofty and misty peaks. Among the Three Gorges, Wu Gorge in the middle is the most beautiful one because of its elegant and graceful views. Also known as Da Xia (Large Gorge), Wu Gorge starts from the estuary of Daning River (Wushan County, Chongqing) in the west and ends at Guandukou (Badong County, Hubei) in the east, altogether 40 kilometers. Passing through Wu Gorge by the cruise, it is like putting yourself in a gallery which has the biggest stage in the world. You will disembark at Badong for an excursion to
Shennong Stream
. A pea-boat floating along the verdant Shennong Stream is scheduled for you, which can be quite a different experience. As the whole junk adventure will last about 3 to 4 hours, you will have lunch a little bit late in the early afternoon. We suggest you have a big breakfast today or bring some snacks with you. When you disembark for the excursion, you can also buy some fruits from the vendors along the way. Then get back to your ship and continue sailing into western section of the
Xiling Gorge
, the last part of the downstream cruise. It was once the most dangerous part of the river because of the numerous reefs, riffles, decharges and rocks. But after years of rectification and improvement on the riverway, and the built of the Gezhou Dam, the current became gentle and mild.
Meals: Western buffet breakfast, Lunch, Dinner
Day 12
Yichang - Shanghai
Disembark the cruise ship, Three Gorges Dam, A 7.5-hour bullet train to Shanghai, Train station to hotel transfer. (B)
After breakfast you will check out from the ship and disembark to visit the
Three Gorges Dam
, the most magnificent hydroelectric project in the world. Then they will transport you to the Three Gorges Tourist Center in Yichang downtown where our local guide will meet you and accompany you to the railway station for a 7.5-hour bullet train to Shanghai. Upon arrival, you will be picked up by another guide and transferred to the hotel.
Meals: Western buffet breakfast
Shanghai Museum, Yuyuan Garden, A la carte lunch, the Bund, Huangpu River cruise, an ancient cultural street. (B+L)
Huangpu River cruise
Shanghai is a city that represents the modern development of the country, so you will find everything here is quite different from what you have imagined. People like the city, not only because of its modernity, but also lying on its potential development, offering people many good opportunities. Today you will have a chance to witness its splendid treasures.
Shanghai Museum
, which houses more than 120,000 historic relics, is a comprehensive ancient art museum.
Yuyuan Garden
, one of the masterpieces of the classical gardens in southern region of our country, nowadays has become a very popular tourist resort. The elegant and beautiful landscape inside the garden and the bustling and lively atmosphere around it make the garden a must-go destination.
As a farewell lunch, we will offer you an
a la carte meal
(valued at CNY150.00 per person and included in our price) of genuine Shanghai cuisine at a reputed local restaurant. Then, you will come to
the Bund
and experience a short
cruise
journey on Huangpu River to appreciate different scenes along both sides of the river. After having a leisurely stroll on the Bund, our guide will accompany you to an old street in the city.
Meals: Western buffet breakfast, A la carte lunch
Day 14
Departure from Shanghai
Bid farewell at the airport. Thank you for travelling with us. (B)
Your private 2 week China tour will come to an end today. Our private transfer will take you to the airport for your homebound flight. Wish you a pleasant journey!

Meals: Western buffet breakfast
B-- Breakfast
L-- Lunch
D-- Dinner
Destinations
Standard Hotels
Economy Hotels
Beijing
Pentahotel Beijing
Days Inn Forbidden City Hotel
Xian
Holiday Inn Xian Big Goose Pagoda
Days Inn City Centre Xi'an
Guilin
Guilin Bravo Hotel
Hotel Universal
Yangshuo
New Century Hotel
New Century Hotel
Yangtze River
President No.7/No.8

with balcony

President No.7/No.8

with balcony

Shanghai
Ocean Hotel Shanghai
Golden River-view Hotel
Early Bird Savings on 2020 Tours
12% off
- book by Jan 31, 2020;
10% off
- book by Feb 29, 2020
Tour Prices with Standard Hotels
2-3 travelers
4-5 travelers
6-9 travelers

$2849

$2507

$2599

$2287

$2249

$1979
Tour Prices with Economy Hotels
2-3 travelers
4-5 travelers
6-9 travelers

$2719

$2392

$2469

$2172

$2129

$1873
Prices are per person in US Dollars based on double occupancy.
The prices in red reflect 12% discount.
Any parts of the itinerary e.g. tour length, activities & hotels can be tailored to your individual interests.
Price Includes
Domestic airfare & train fares
Hotel accommodation with breakfasts
A la carte lunches as itinerary specifies
Private English-speaking guides
Private drivers & air-conditioned vehicles
Entrance fees to tourist sites
Yangtze River cruise with full board
Price Excludes
International airfares
Entry Visa fees
Personal expenses
Tips or gratuities for guides and drivers
Why Travel With Us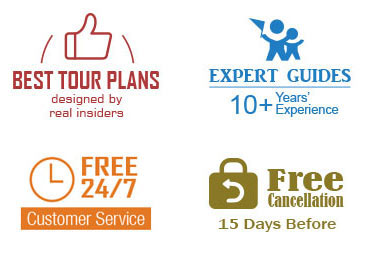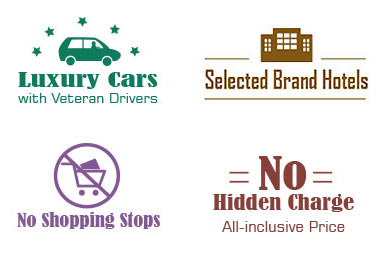 Other levels available for this itinerary: